UA formal Announcement of AAUT Award Winners for 2021
1 February, 2022
Welcome back. The Awards Team hopes you had a restful break! The AAUT recipients for 2021 will be announced on 23 Feb 2022. Stay tuned.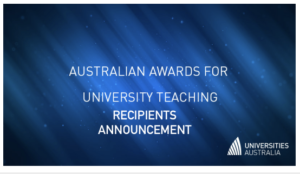 ---
2021 AAUT Office Closed For Holiday
22 December, 2021
AAUT Awards Team and @ProfAngeCarbone  wish you all a happy festive season. The office is close from Thursday 23 Dec 2021 to Wednesday 12 Jan 2022.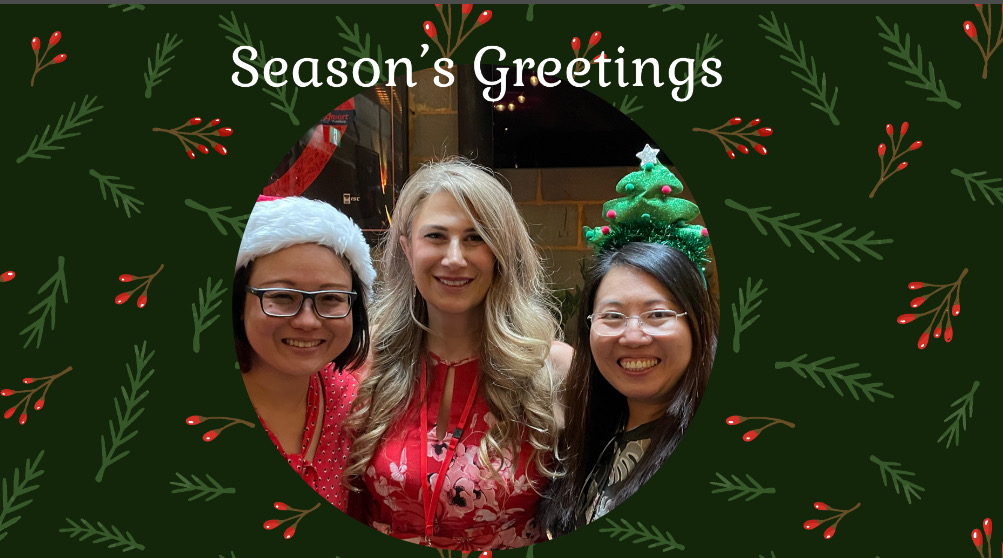 ---
Acknowledgement 2021 AAUT Awards Committees
14 December, 2021
Please join us in thanking the 2021 AAUT Awards Committees for their contribution to AAUT and making the final recommendations before going to UA. Extra special thanks to the Committee Chairs: Prof. Sally Kift; Prof. Liz Johnson; Prof. David Sadler & Prof. Pip Pattison.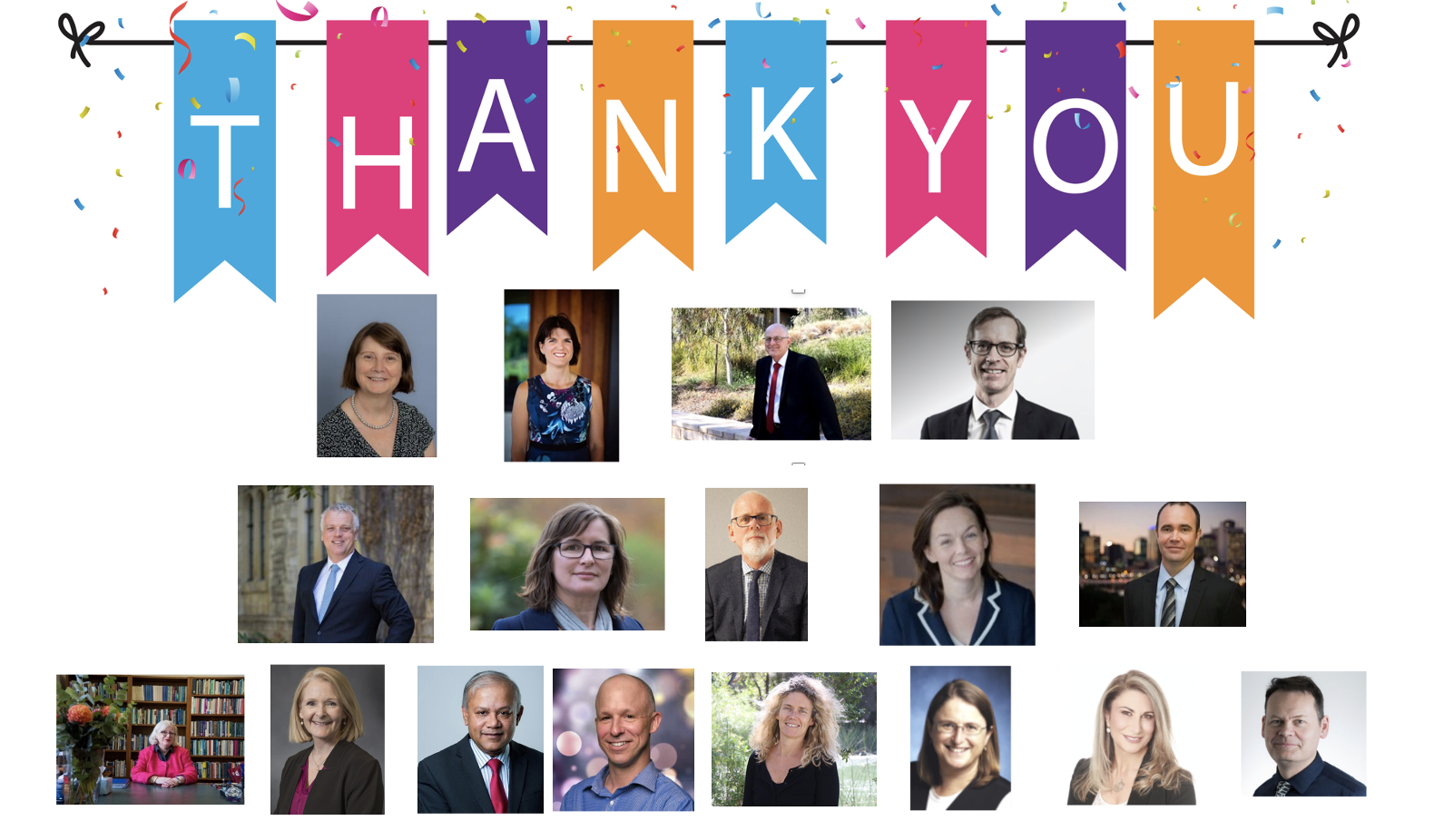 ---
2021 ICOs Feedback
8 December, 2021
We would like to thank all ICOs for their ongoing support for the Australian Awards for University Teaching. It's great to receive some positive feedbacks from ICOs.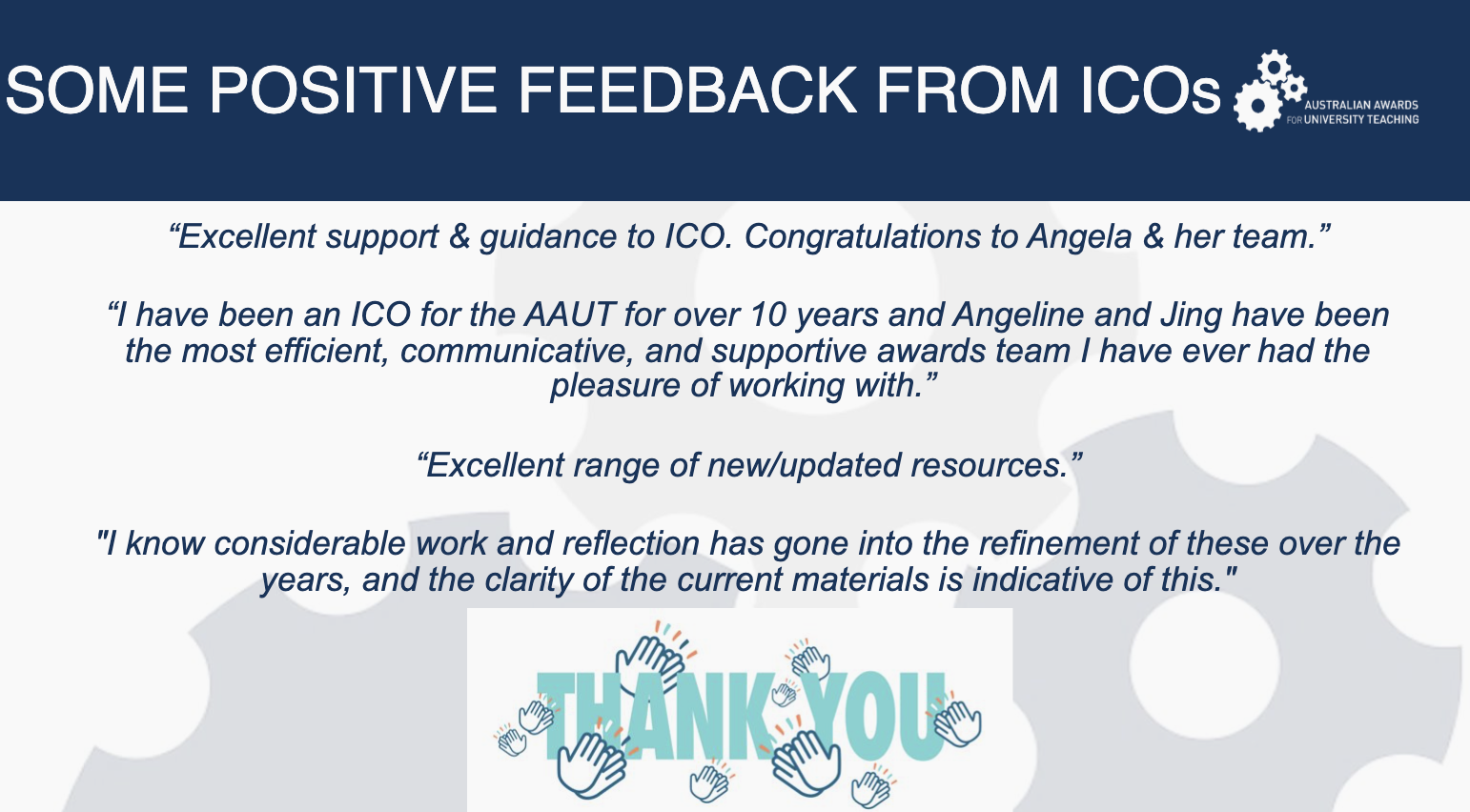 ---
Acknowledgement 2018 to 2021 Assessors
1 December, 2021
A big thank you to this year's 159 AAUT assessors for their contributions. From 2018 to 2021, we have 609 assessors who assessed over 700 submissions. They have volunteered their time and to give back to AAUT. Among them, there are 20 assessors who have continuously support the awards over the four years.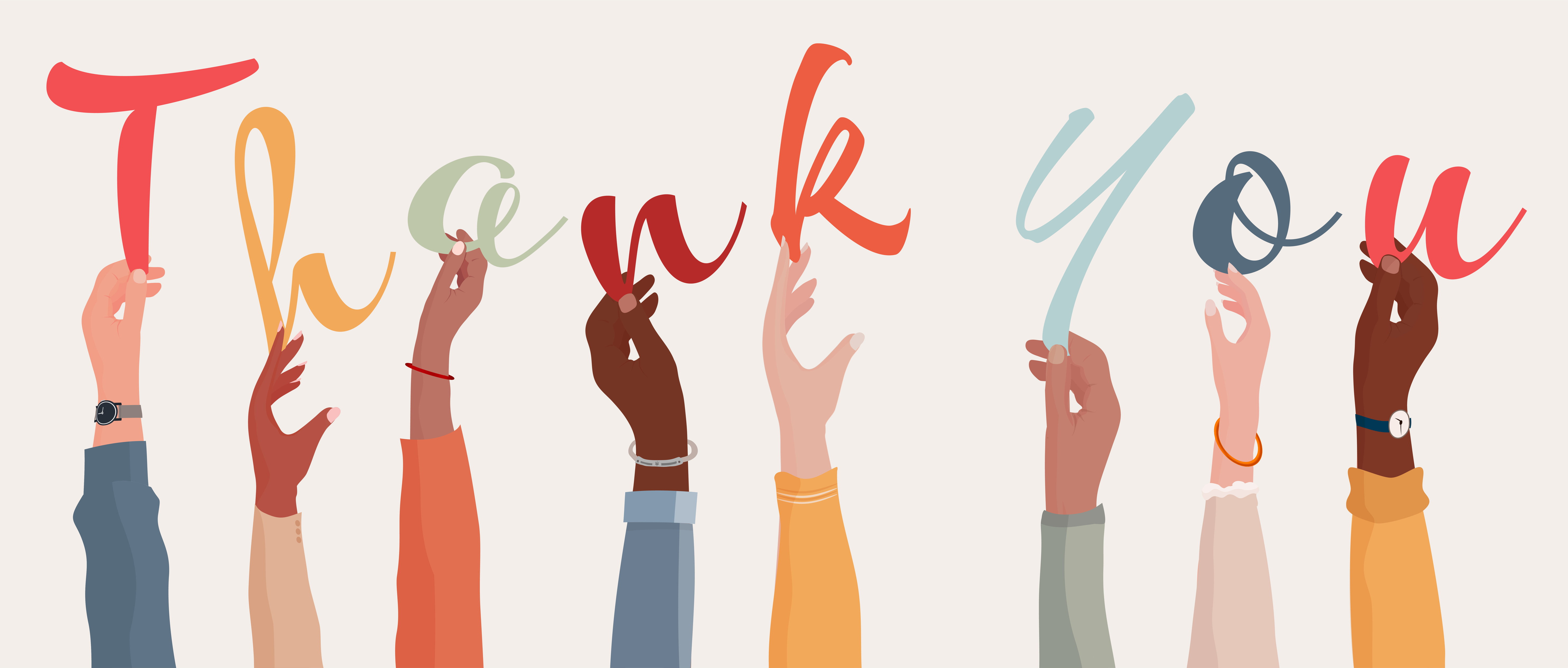 ---
2021 AAUT Awards Recipients Annoucement
8 November, 2021
For the 2021 AAUT, we have received a total of 184 submissions across Teaching Excellence, Programs and Citations. Universities Australia
will be formally announcing the 2021 AAUT Awards recipients virtually on Wednesday 23 Feb 2022, 4pm AEDT. More details to come.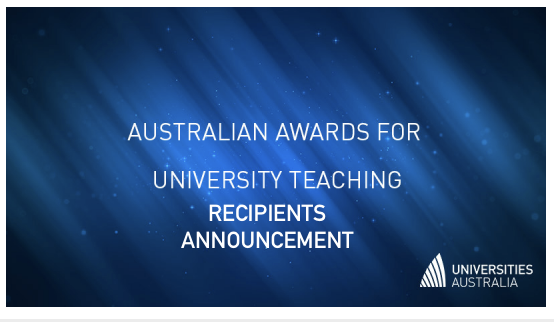 ---
A Commentary of AAUT
3 November, 2021
Professor Angela Carobne, AAUT Awards director, was invited to provide a commentary for the Journal of University Teaching and Learning Practice (JUTLP) on the overview, benefits of AAUT, and the challenge going forward. Click on the link to read more – "The value of the Australian Awards for University Teachers (AAUT): Building and maintaining excellence in teaching and learning across the nation".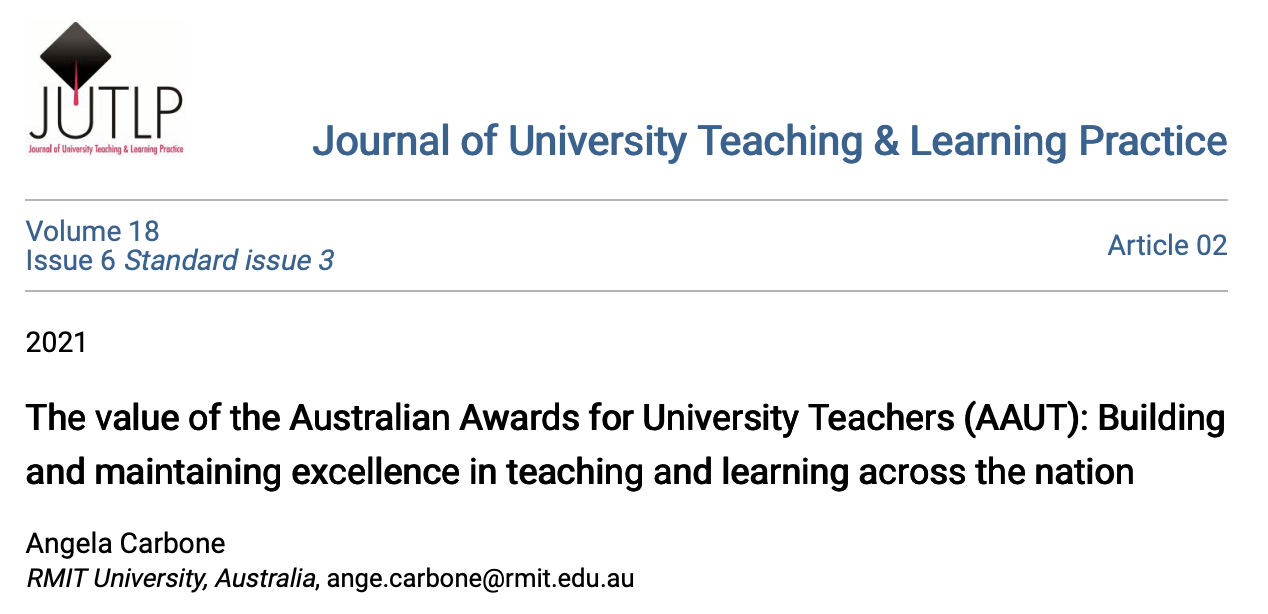 ---
2021 AAUT Career Achievement Award
29 October, 2021
This year the AAUT Awards will continue to recognise individuals who have devoted their life making outstanding contributions to learning and teaching, with their achievements having a major influence and leaving an enduring legacy on the higher education sector.  This will be recognised through The Career Achievement Award. Nomination period: 1 – 19 Nov via your institution Vice-Chancellor.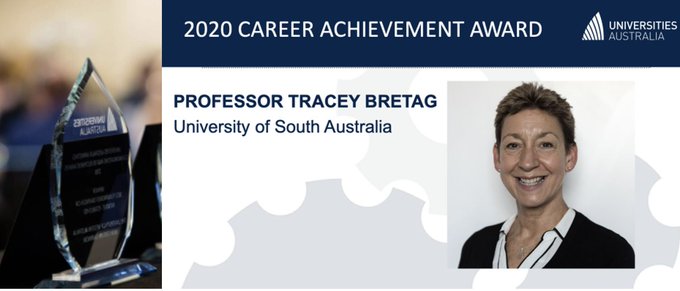 ---
Welcome 2021 AAUT Assessors
19 October, 2021
A big welcome and thank-you to the 159 assessors from across 38 Australian universities who have graciously volunteered their time to review this year's National Teaching Award submissions. The sector greatly appreciates your commitment and input!!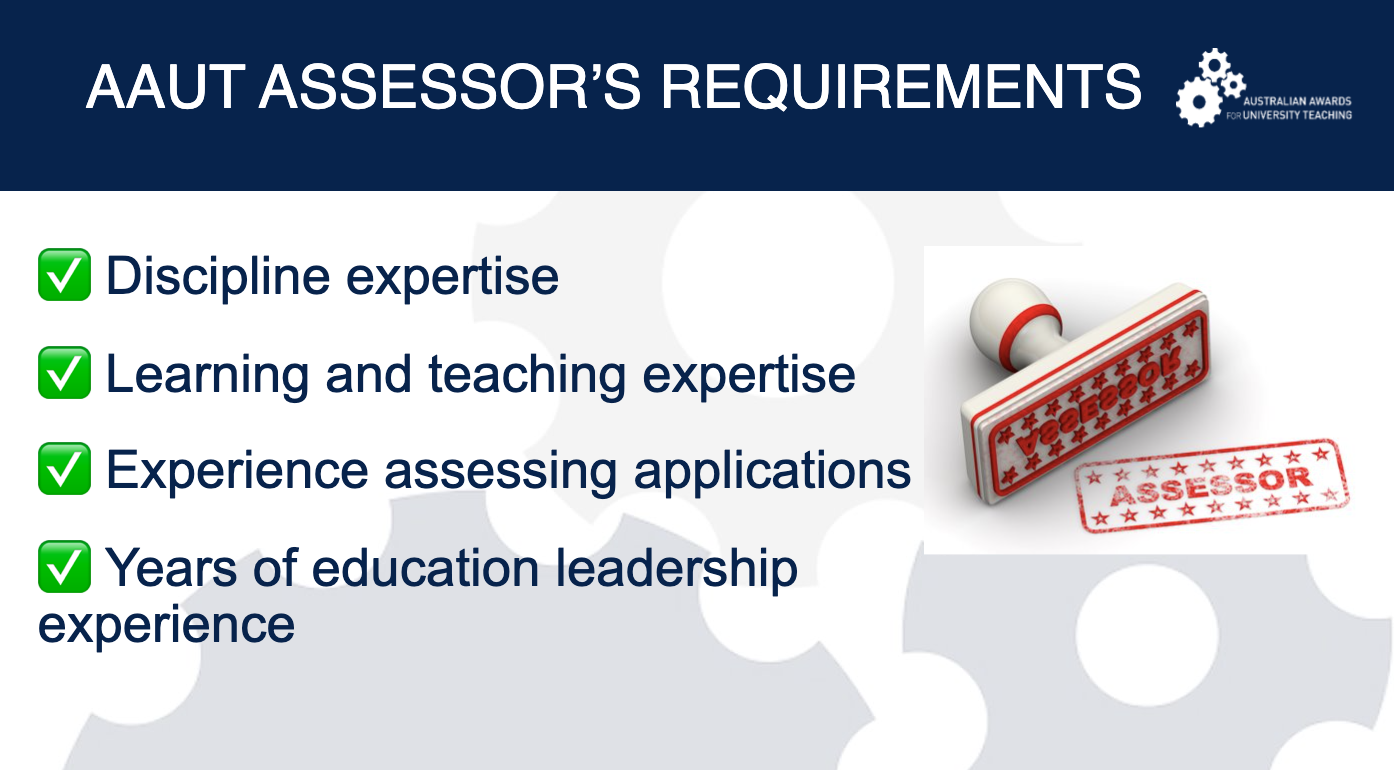 ---
Acknowledgement 2018 to 2021 Institutional Contact Officials
12 October, 2021
It has been so impressive to have a wonderful team of ICOs, over the past three years, that have contributed to the success of the national teaching awards. We thank all the past and current Institutional Contact Officers (ICOs).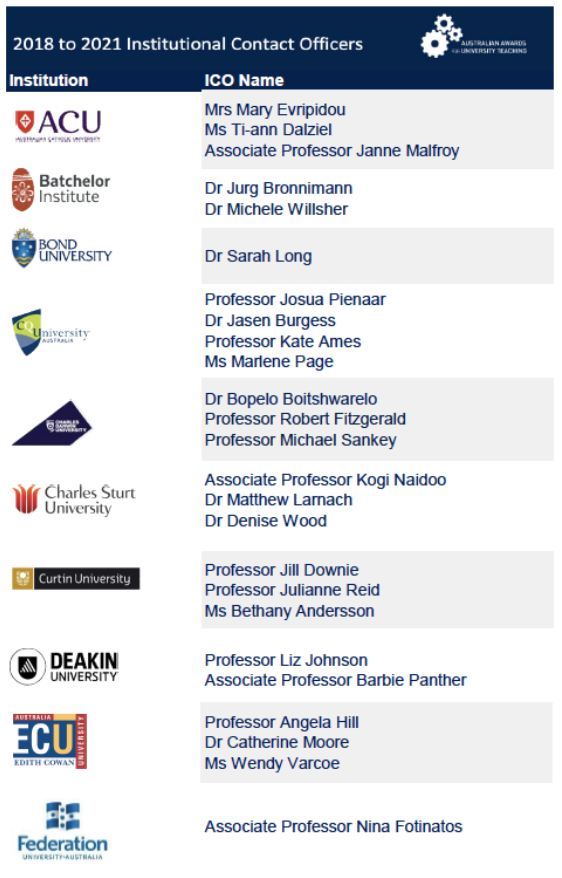 ---