Acknowledgement 2021 AAUT Awards Committees
14 December, 2021
Please join us in thanking the 2021 AAUT Awards Committees for their contribution to AAUT and making the final recommendations before going to UA. Extra special thanks to the Committee Chairs: Prof. Sally Kift; Prof. Liz Johnson; Prof. David Sadler & Prof. Pip Pattison.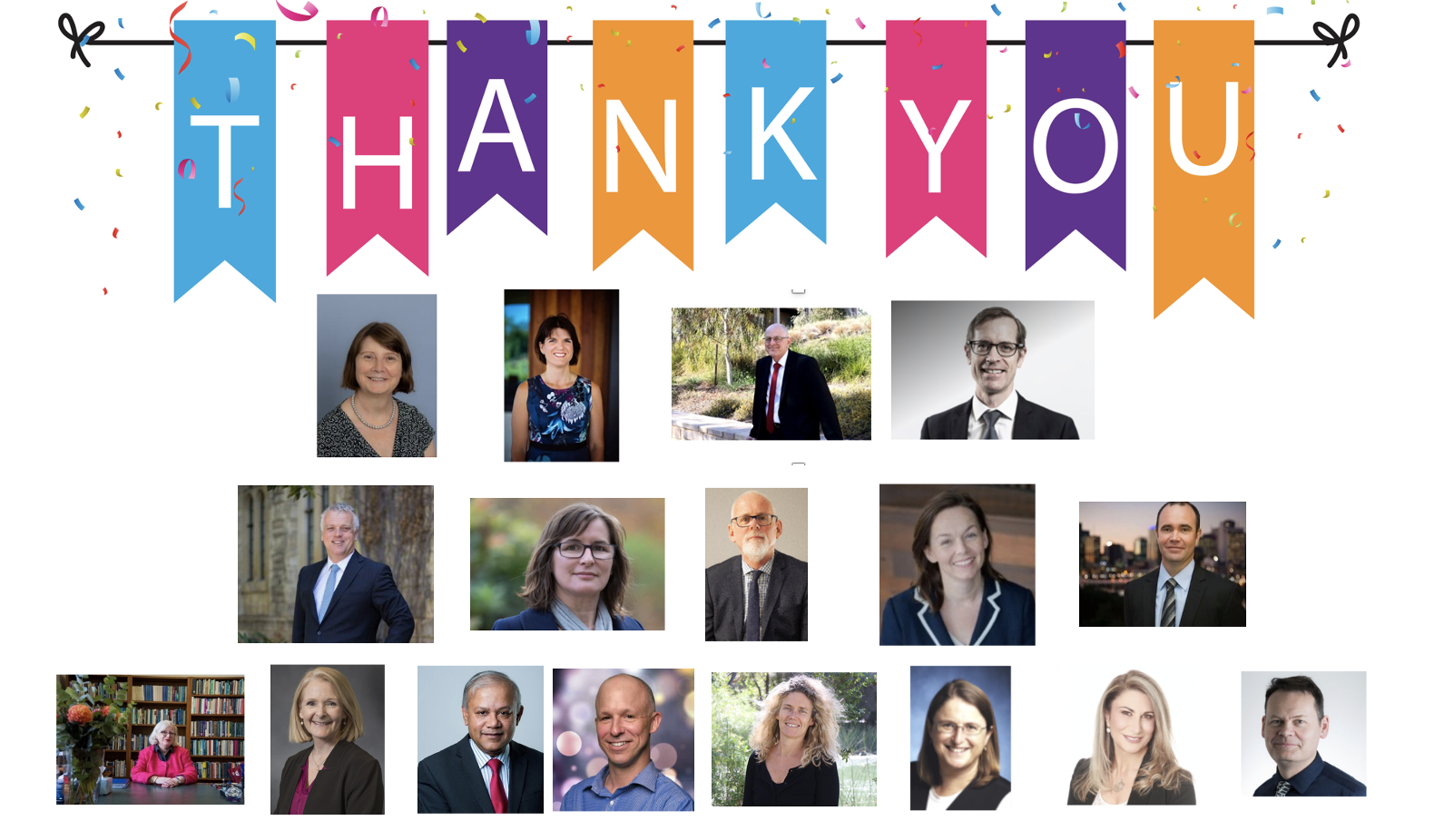 ---
Acknowledgement 2018 to 2021 Assessors
1 December, 2021
A big thank you to this year's 159 AAUT assessors for their contributions. From 2018 to 2021, we have 609 assessors who assessed over 700 submissions. They have volunteered their time and to give back to AAUT. Among them, there are 20 assessors who have continuously support the awards over the four years.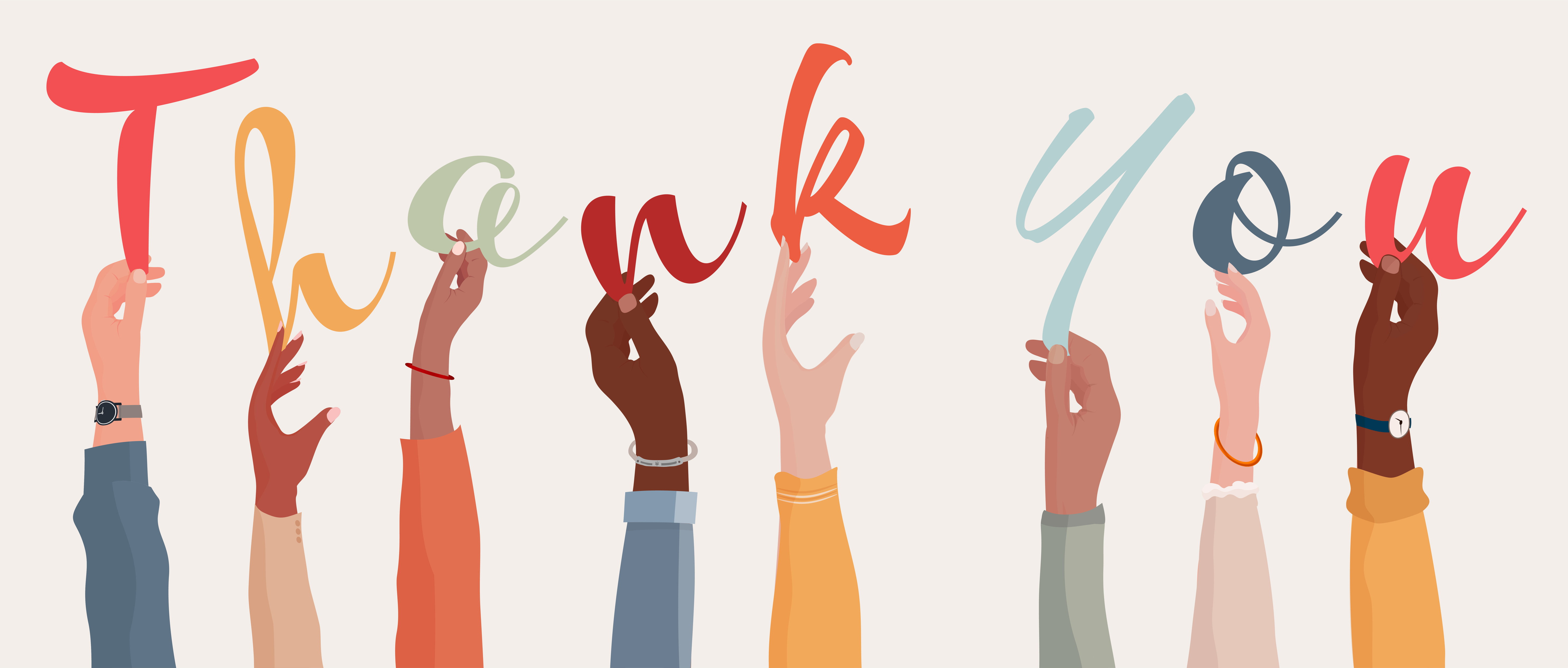 ---
Welcome 2021 AAUT Assessors
19 October, 2021
A big welcome and thank-you to the 159 assessors from across 38 Australian universities who have graciously volunteered their time to review this year's National Teaching Award submissions. The sector greatly appreciates your commitment and input!!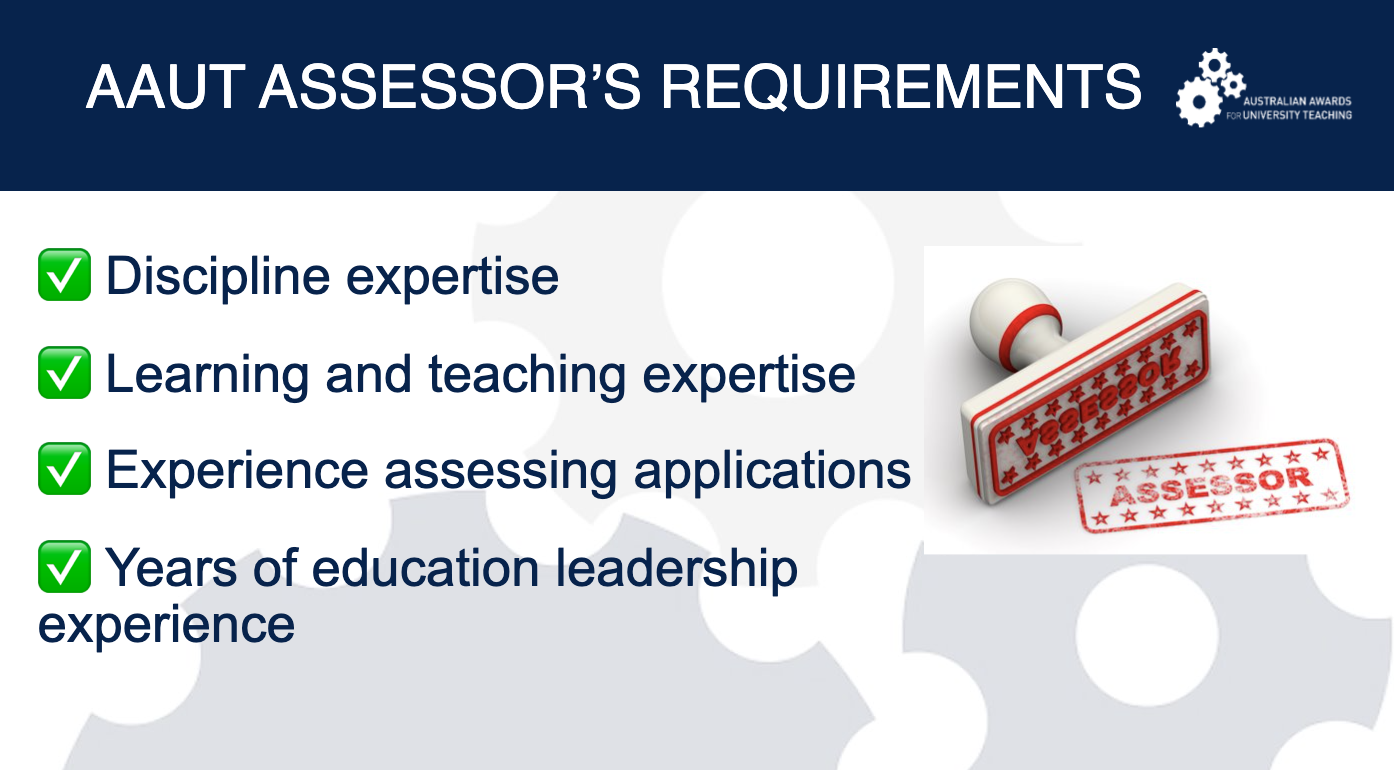 ---
2021 AAUT Career Achievement Award
9 September, 2021
Since 2020, Universities Australia has reinstated the Career Achievement Award. This award is occasionally awarded to one or more individuals who have:
Made an outstanding contribution to learning and teaching
Had a major influence and left an enduring legacy
Been recognised throughout the higher education sector.
We encourage Vice Chancellors to start thinking of a potential candidate from their institution. More details to come.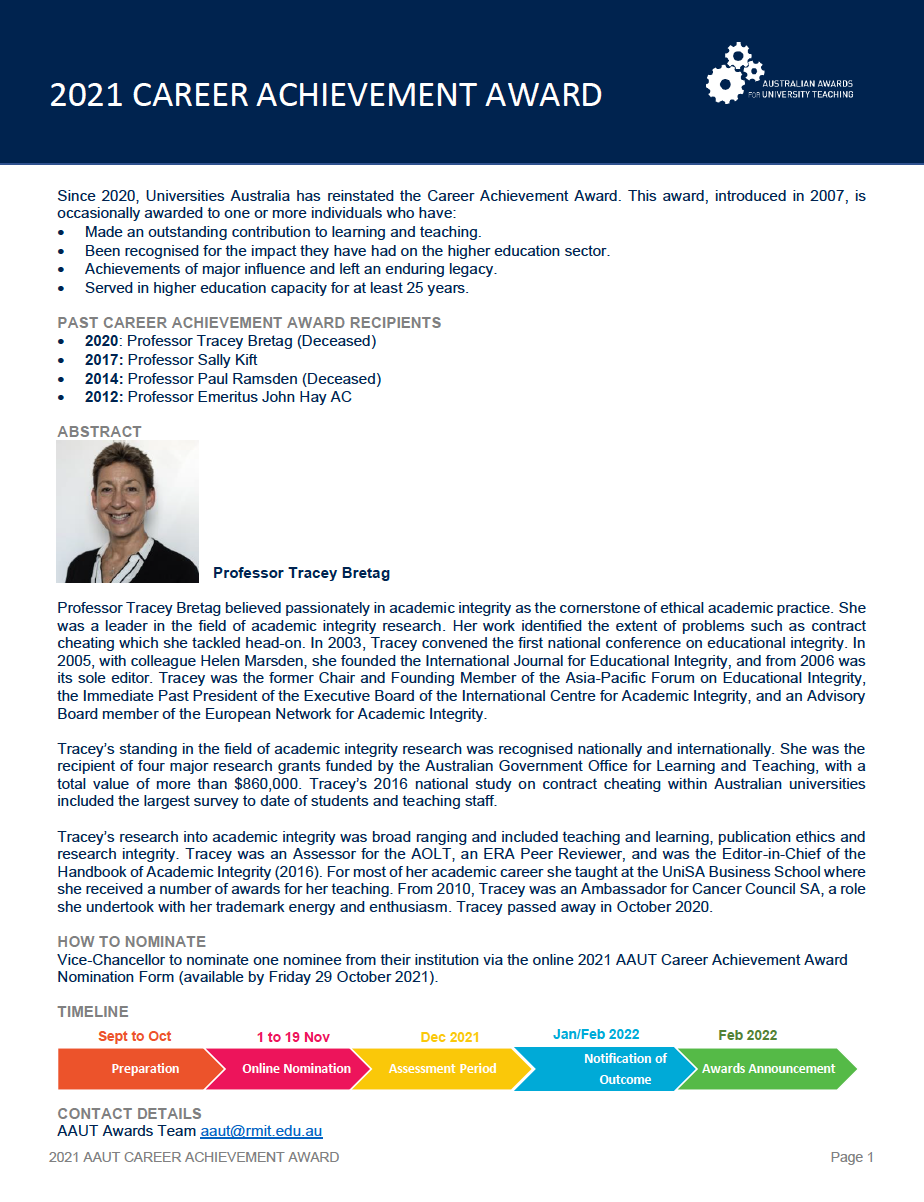 ---
2021 AAUT Career Achievement Award Committee
9 September, 2021
We would like to welcome the recipient of the 2017 Career Achievement Award Professor Sally Kift as the Chair of this committee.  Professor Kift has been involved in the Program Awards Committee from 2018 to 2020, and is the President, Australian Learning & Teaching Fellows (ALTF).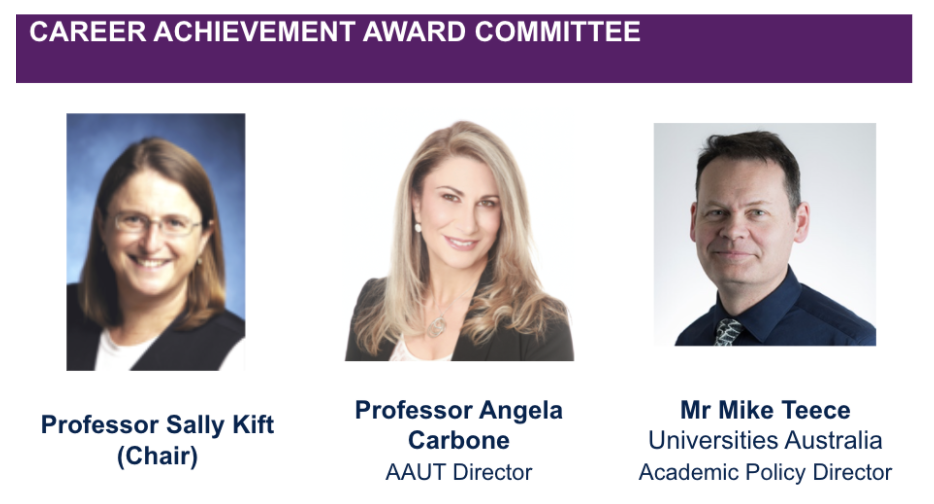 ---
2021 AAUT Awards Committee Chairs
4 August, 2021
We are indebted to the commitment and dedication of our Award Committee Chairs. These senior academic leaders in teaching and learning provide their time and expertise to support the recognition of teaching excellence in our universities. This year our committee chairs are Professor Elizabeth Johnson (Citations), Professor David Sadler (Program Awards) and Professor Pip Pattison (Teaching Awards). They will be leading their committee in providing recommendations and endorsement of award recipients to the Universities Australia Board.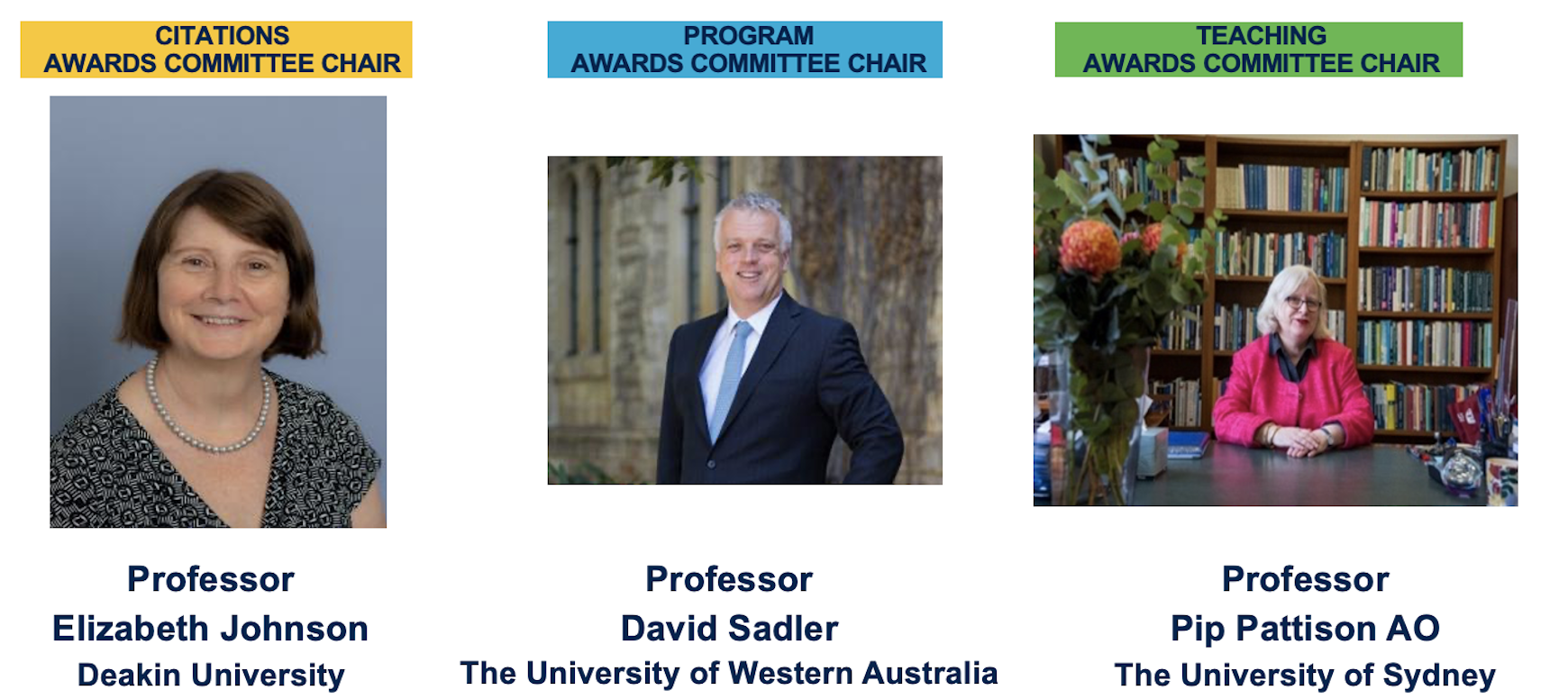 ---
2021 Assessor Recruitment
21 July, 2021
Inviting members of the Council of Australasian University Leaders in Learning and Teaching (CAULLT), the Australian Learning and Teaching Fellows (ALTF) and the Australian Promoting Excellence Networks (PEN) – West Australian Network for Dissemination (WAND) and the Victorian/Tasmanian (VTAS)   Promoting Excellence (PE) Network to be part of this year AAUT assessment panel. Contact the Awards team aaut@rmit.edu.au for EOI link. Closing date: Friday 30 July 2021.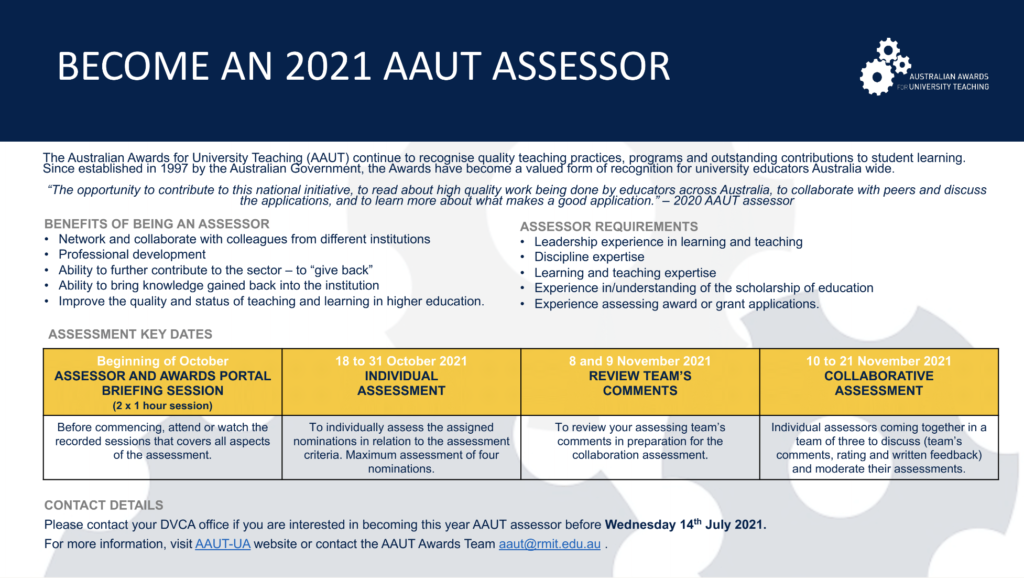 ---
2020 AAUT Assessor Evaluation
1 December, 2020
Assessor EvaluationSurvey is now open till Monday 21 Dec. Your feedback helps us to improve on the systems and processes for future rounds.
---
2020 AAUT Collaborative Assessment
16 November, 2020
Time for comprehensive discussions, arguing individual rating and reaching consensus during the collaborative assessment period 16-27 Nov

---
2020 AAUT Individual Assessment Open
26 October, 2020
AAUT assessment phase has commenced. AAUT Assessors are completing individual assessment of submissions – Rating and Feedback.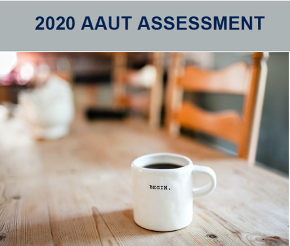 Photo by Danielle MacInnes on Unsplash
---